For the pre-Modern Warfare equivalent, see Minefield.
Radiation Zones
are parts that are usually outside the map, that if stayed in too long will kill the player. They are used to keep the player inside the boundaries of the map, similar to invisible walls or minefields used in previous games. They appear in
Call of Duty 4: Modern Warfare
and in
Call of Duty: Modern Warfare 2
. The zones are marked by signposts with the international radiation symbol on them. When a player enters a radiation zone, they will hear a Geiger counter clicking and their screen will blur and fuzz up temporarily limiting combat effectiveness.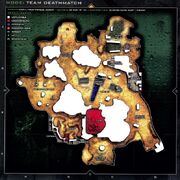 Call of Duty 4: Modern Warfare
Edit
In Call of Duty 4: Modern Warfare, radiation zones are seen in the campaign missions "All Ghillied Up" and "One Shot, One Kill". When the player enters the zone, their movement becomes sluggish and their screen begins to fuzz, and eventually the player is killed unless they leave in time.
Call of Duty: Modern Warfare 2
Edit
In Call of Duty: Modern Warfare 2, radiation zones appear in the multiplayer levels Afghan and Wasteland. Their effects are similar to those from Call of Duty 4: Modern Warfare, except blood appears on the screen. The radiation zones also appear in the Special Ops mission Hidden, which in turn is based on "All Ghillied Up".
On the rare occasion, if venturing far into a radiation zone, sights will fade away and then reappear, as if blinking.
It is possible to get out of the radiation area using Painkiller without losing any health. However, the screen 'blinks' making visibility low.
The enemies in "All Ghillied Up" can walk in the radiation zones and not die.
These replaced the Minefields from previous Call of Duty games.
Ad blocker interference detected!
Wikia is a free-to-use site that makes money from advertising. We have a modified experience for viewers using ad blockers

Wikia is not accessible if you've made further modifications. Remove the custom ad blocker rule(s) and the page will load as expected.