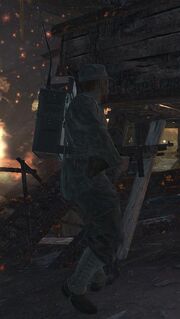 A Radioman, also known as a Radio Operator or Radio Op, is a soldier who has the job of carrying a radio on their back to make calls to other allied radiomen and positions. They are easily recognizable by the large green radio they carry around on their back.
Known Radiomen
Edit
Radiomen in the Call of Duty series include:
The Sergeant says, "This article needs more content, so stop messing around and add to it right now!"

Please expand the article as well as you can!
Ad blocker interference detected!
Wikia is a free-to-use site that makes money from advertising. We have a modified experience for viewers using ad blockers

Wikia is not accessible if you've made further modifications. Remove the custom ad blocker rule(s) and the page will load as expected.