Safehouse
Talk

17
5,941pages on
this wiki

Safehouse
Previous level
Aftermath
Next level
All Ghillied Up (in-game)
Heat (chronogically)
Game
Call of Duty 4: Modern Warfare
Character
John "Soap" MacTavish
Team
SAS
Weapons
M4A1 SOPMOD (30 + 420 rounds), M1014 (7 + 63 shells), 4 frag grenades, 4 flashbangs, M203 (10 rounds), Helicopter, 4 C4 blocks, night vision goggles
Enemy weapons
MP5, Skorpion, Mini-Uzi, G3, G36C, RPD, Dragunov, AK-47, AK-47 Grenadier, M9, RPG-7
Place
Northern Azerbaijan
Date
Day 4, 2011 - 02:00:34
Objective
Search the village buildings and capture Khaled Al-Asad.
Enemies
Ultranationalists
Console codename
village_assault
Multiplayer map
Overgrown
"Why'd you do it? Where did you get the bomb?!"
— Captain Price to Al-Asad
"Safehouse" is the twelfth mission of Call of Duty 4: Modern Warfare and the first mission of Act 2. It sees Captain Price's team working with the Russian Loyalists to capture Khaled Al-Asad in his safehouse in Azerbaijan.
Characters
Edit
Nikolai has told Captain Price and his team that Khaled Al-Asad may be hiding in a safehouse located in Azerbaijan which he has used previously. MacTavish and the team get dropped off at the small village where they believe Al-Asad is hiding.
The team, supported by a Russian Loyalist squad member (his name is randomly generated) and a helicopter, search the buildings for Al-Asad while attacking the Ultranationalists who are protecting him and killing the villagers. They search through four safehouses, each one containing Ultranationalists. Eventually, they find Al-Asad in the last of the buildings. Price kills Al-Asad's bodyguards, and then tackles Al-Asad to the ground and continually punches him. Soon, Price ties Al-Asad to a chair for interrogation, demanding to know who gave Al-Asad the bomb, punching him again and again. A cellphone rings, in which Gaz picks it up and tosses it to Price. Price listens, and then turns to Al-Asad, and kills him by shooting him with his pistol. As Gaz asks who was it on the phone, Price says that that was Imran Zakhaev, and finds out that Zakhaev is the leader of the Four Horsemen.
Video Walkthrough
Edit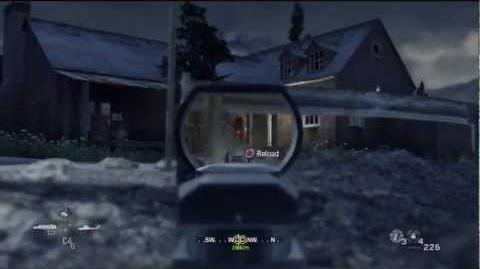 Arcade Mode Walkthrough
Weapon loadout
Edit
Enemy Intelligence
Edit
Laptop 17 is located on the top floor of the house with a large, black satellite dish on the ground outside. It is on the dresser in one of two similar rooms.
Achievements
Edit
Wrong Number (20

) - Complete "Safehouse" on any difficulty.
The Second Horseman (40

) - Complete "Safehouse" on Veteran difficulty.
Transcript
Edit
Main article: Safehouse/Transcript
Main article: Safehouse/Trivia