Soyuz Two
Talk

0
5,932pages on
this wiki
"There's Soyuz Two, scheduled to launch ten minutes after Soyuz One."
— Alex Mason to Frank Woods.
The Soyuz Two rocket appears in Call of Duty: Black Ops in the campaign mission "Executive Order". The player is tasked with aborting the launch of the rocket, but when this fails, Mason uses Valkyrie Rockets to destroy it.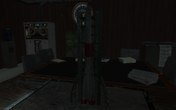 Though the player is instructed to use Valkyrie rockets, firing a Crossbow explosive bolt will also destroy the rocket.
The Model for Soyuz Two is featured again on both the Multiplayer map Launch and the Zombies map Ascension. On Ascension it can also be destroyed.
A miniature version of the rocket can be found in one of the random rooms on the Zombies map Kino der Toten, if the player presses the "use" button, the rocket will be launched.