"Create your own soldiers to fight the good fight in Multiplayer with the Resistance Squad Pack. Never surrender with three interchangeable heads and four uniforms."
— DLC Description
Squad Pack - Resistance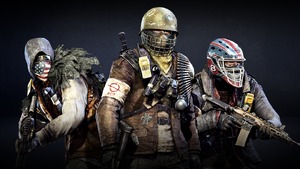 Game
Call of Duty: Ghosts
Date Released
June 3rd, 2014 (Xbox 360 & Xbox One)
Price
$3.99
Squad Pack - Resistance is a Customization Pack in Call of Duty: Ghosts released alongside the Invasion DLC and The Flags of the World Pack, on June 3rd, 2014, for Xbox 360 and Xbox One. [1]
References
Edit
Ad blocker interference detected!
Wikia is a free-to-use site that makes money from advertising. We have a modified experience for viewers using ad blockers

Wikia is not accessible if you've made further modifications. Remove the custom ad blocker rule(s) and the page will load as expected.