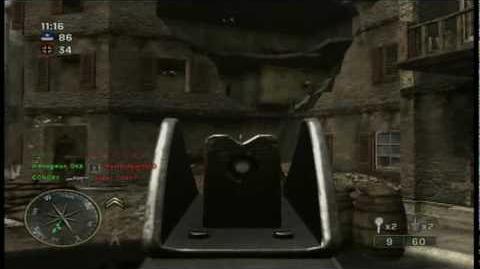 For the game mode with a similar objective, see Team Deathmatch.
Team Battle is a multiplayer game mode in Call of Duty 3. Team Battle is the same as Team Deathmatch. In Team Battle, each kill is worth one point; however, if a player destroys a vehicle with enemy soldiers on it, it gains one point for the vehicle, plus one more for each occupant. Medics can also score points by reviving critically injured teammates, and the Support class can earn points by delivering ammo to teammates. Team kills subtract 3 points from the player's score, and suicides do not affect the player's score, but both increase the player's kill count normally.
Each kill received helps out both the player and their team, so teamwork is both important and worthwhile.
The Sergeant says, "This article needs more content, so stop messing around and add to it right now!"

Please expand the article as well as you can!
Ad blocker interference detected!
Wikia is a free-to-use site that makes money from advertising. We have a modified experience for viewers using ad blockers

Wikia is not accessible if you've made further modifications. Remove the custom ad blocker rule(s) and the page will load as expected.