Hey! User! Drop the chips and get me some images!
This article is in need of quality images. Feel free to upload and insert some into their respective locations.

The Dark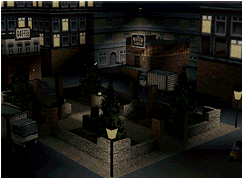 Game
Call of Duty: Modern Warfare 3: Defiance
Teams
US Marine vs Russian soldier
Location
United States
Terrain
Urban streets and buildings
Modes
Death Match,Team Death Match, Sabotage, Gun Game, Sharpshooter, One in a Chamber
Type of Combat
Mostly long ranged
Console Codename (PC)
Nintendo DS
The Dark is a multiplayer map in Call of Duty: Modern Warfare 3: Defiance.
The Dark is a spitting remake map of Call of Duty: Black Ops (Nintendo DS)'s Crossfire. But instead of the map taking place in broad daylight and covered in snow, The Dark takes place at night and the snow has melted.
The Dark retains most of Crossfire's main terrain and building sniper nests.
Now that the snow has melted, cars that were previously buried under snow are no longer buried. This means, however, that players can no longer walk over the cars.
The interior doors of the building sniper nests have been shut, preventing access from players.
The various signs on the buildings say, "Nate's", "Drug Store", "Coffee" and "Hotel".