Tell the article to standby; we're on our way. Out.
This article contains information about a subject that is scheduled to make an appearance in upcoming content.
Please do not add non-referenced or speculative content until it can be confirmed by the game's release.
The Resistance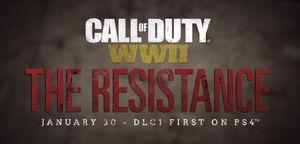 Game
Call of Duty: WWII
Platform
PlayStation 4, Xbox One, Microsoft Windows (PC)
Contents
TBA
Date Released
January 30th, 2018 (PlayStation 4)
Price
$14.99
Free (with Season Pass)
The Resistance is the first DLC map pack for Call of Duty: WWII. It is scheduled to release on January 30th, 2018 for PlayStation 4.
Multiplayer Maps
Edit
Ad blocker interference detected!
Wikia is a free-to-use site that makes money from advertising. We have a modified experience for viewers using ad blockers

Wikia is not accessible if you've made further modifications. Remove the custom ad blocker rule(s) and the page will load as expected.