The Sins of the Father
Talk

6
5,934pages on
this wiki
The Sins of The Father
Previous level
Heat
Next level
Ultimatum
Game
Call of Duty 4: Modern Warfare
Character
John "Soap" MacTavish
Team
SAS and USMC (joint operation), Loyalists
Weapons
R700 (4 + 10 rounds), M1911 .45 (7 + 83 rounds), 4 frag grenades, 4 flash grenades, RPD (100 + 300 rounds),
Enemy weapons
AK-47, Skorpion, G36C, Mini-Uzi, MP5, W1200, Dragunov
Place
Southern Russia
Date
Day 5, 2011 - 06:34:26
Objective
Locate the enemy checkpoint.
Get in position to attack the checkpoint.
Secure the checkpoint.
Ambush the enemy convoy.
Hunt down and capture the son of Zakhaev.
Disarm and restrain Zakhaev's son.
Enemies
Ultranationalists, Dogs, Viktor Zakhaev
Console codename
ambush
"The Sins of the Father" is the sixteenth campaign mission of Call of Duty 4: Modern Warfare, in which the main character must chase down Viktor Zakhaev, the son of Imran Zakhaev.
Characters
Edit
The mission begins with Soap, along with other SAS, Russian Loyalists and Marine forces. They take out a large group of guards at a checkpoint and then change into the enemies' clothing and await Viktor Zakhaev. When he arrives, the team takes down the Ultranationalists, but Victor makes his escape, leaving John "Soap" MacTavish and Griggs to chase him down.
He runs through an adjoining town where Ultranationalists cover him as he flees. He runs into a partially destroyed building while Soap's team gets support from an American Helicopter, callsign Vulture One-Six, to take out enemies and track Viktor through the building.
Once they wipe out all the enemies in the building, they corner Viktor Zakhaev on the roof and attempt to restrain him; he then takes the opportunity to shoot himself. As the mission ends, Gaz tells Price of his disappointment, and remarks that "His son was our only lead, sir." Price, however, correctly replies, "Forget it. I know the man, he won't let this go unanswered. Let's go."
Video Walkthrough
Edit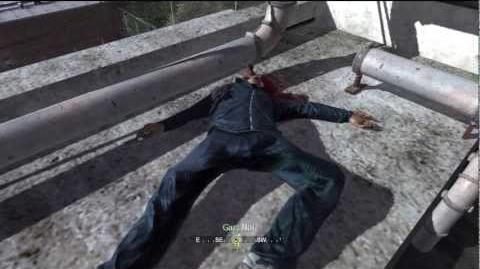 Arcade Mode Walkthrough
Weapon loadout
Edit
Intel Items
Edit
Laptop 24 is found near the beginning of the level, before dressing as a Russian. It is located in the restaurant where most of the enemies are, on the left, on a table. The player will have to be quick in getting it before getting changed.
Laptop 25 is found after taking the "Alley on the Left", after seeing a green car and a red dumpster take a right. Kill the enemies then go up some stairs leading into a building, kill the enemies in there and collect the laptop.
Main article: The Sins of the Father/Trivia
Achievements
Edit
Desperate Measures (20

) - Complete "The Sins of the Father" on any difficulty.
The Third Horseman (40

) - Complete "Heat" and "The Sins of the Father" on Veteran difficulty.
Transcript
Edit
Main article: The Sins of the Father/Transcript