Type 95
Talk

50
5,934pages on
this wiki
For a similar weapon, see Type 25.
For a similarly named vehicle, see Type 95 Scout Car.

The Type 95 is a bullpup assault rifle in Call of Duty: Modern Warfare 3, and was scheduled to appear in Call of Duty: Black Ops II.[1]
Call of Duty: Modern Warfare 3
Edit
Type 95
Damage

55-20

Weapon Class
Magazine Size

30 rounds (45 with Extended Mags)

Tier

13 (Private Match Gun Game only)

Unlocked at

Level 32 (Multiplayer)
Level 50 (Survival Mode)

Cost (Survival Mode)

$3000

Starting Ammunition

30+60 (MP)

Maximum Ammunition

180 (MP)

Reload Time

2.76s loaded, 3.3s unloaded

Rate of Fire

1016 RPM per burst (477 RPM overall)

Range (explanation)

Recoil

Low

Recoil center speed

1200

Fire Mode

3-round burst

HUD icon

Sound(s)

Original sound



w/ Suppressor
"Along with possessing the highest accuracy and mobility in its class, the Type 95 delivers pinpoint 3-round bursts with minimal spread on target. It performs best at longer distances, as its low damage output struggles in mid-range against heavy hitting weapons."
— Call of Duty: Elite description
Multiplayer
Edit
The Type 95 is unlocked at Level 32. It is a three-round burst weapon and has a high fire rate per burst. The Type 95's high damage and fast fire rate lead to one-burst kills quite often, making it versatile in almost all situations. The Type 95 can kill in just two bullets at close-range, but suffers from high damage drop-off at range, so at extreme ranges, it may take up to five bullets (two bursts with no more than one bullet missed) to kill. It has lower hip-fire accuracy compared to most assault rifles due to a subsequent patch that widened its crosshairs, reducing its previous effectiveness at close-quarters.
The Type 95 is also used in Infected, seen in the gametype, Type 95 v. Knife, although a Red Dot Sight is a default attachment for the Type 95.
Attachments
Edit
Proficiency
Edit
Survival Mode
Edit
The Type 95 is available in Survival Mode at level 50, costing $3000.
It is very useful when facing enemies in close-quarters due to its extremely high damage. However, the hip-fire spread and the fire mode does not make it ideal. It is useful on any wave, but when facing multiple enemies, dogs or Juggernauts, it becomes less effective.
For camouflage images, see Type 95/Camouflage.
For attachment images, see Type 95/Attachments.
Demonstration
Edit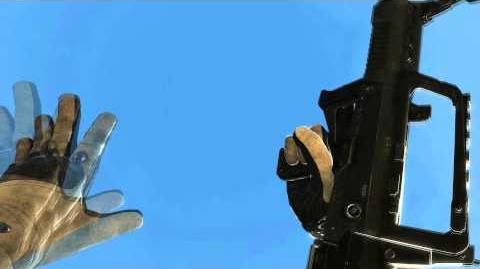 Call of Duty: Black Ops II
Edit
The Type 95 initially looked to appear in Call of Duty: Black Ops II. Its pick-up icon was seen in the E3 gameplay, but it has not since made any appearances in any trailers. It is now called the Type 25, which is still referred to as the Type 95 in the game files (menu_mp_weapons_type95_big.dds, menu_mp_weapons_type95.dds, type95_mp).
Call of Duty: Modern Warfare 3
Edit
Along with the M16A4 and the MK14, the Type 95 is one of the only Assault Rifles in the Call of Duty series that can be used with Rapid Fire.
The Type 95 has two Chinese characters etched on the back of the carrying handle. These characters are

無敵

, pronounced "wú dí" in pinyin. In English, it translates to "invincible", but literally means "unparalleled" or "without enemy".
The Type 95, the G36C and the USAS 12 are the only guns in Call of Duty: Modern Warfare 3 in which the carrying handle is not removed when adding optics.
Adding a shotgun to the Type 95 increases visual recoil.
The Type 95's magazines are used in the Extended Mags' icon.
In Infected and FFA Gunplay, the gun is seen with a Red Dot Sight.
The Type 95 reuses the Famas' reload animation from Call of Duty: Modern Warfare 2.
References
Edit