Ad blocker interference detected!
Wikia is a free-to-use site that makes money from advertising. We have a modified experience for viewers using ad blockers

Wikia is not accessible if you've made further modifications. Remove the custom ad blocker rule(s) and the page will load as expected.
Call of Duty: Black Ops II
Edit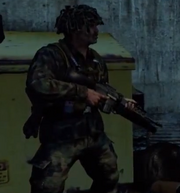 U.S. Army Rangers appear
Call of Duty: Black Ops II
. They appear first in the 1989 US invasion of Panama. They are seen fighting in the streets against
PDF
in "
Suffer With Me
". When Manuel Noriega escapes from Mason and Woods, he confronts two Rangers, and kills one, before throwing the other down the building. Once Woods and Mason confront and punish him, Rangers that found the one wounded Ranger call in a gunship strike, which Woods, Mason, and Noriega have to escape. In 2025, large numbers of futuristic Army Rangers are seen assisting Commander
David Mason
in assaulting
Cordis Die
's base in Haiti during the final mission "
Judgement Day
".
Call of Duty: Black Ops II
Edit