Ad blocker interference detected!
Wikia is a free-to-use site that makes money from advertising. We have a modified experience for viewers using ad blockers

Wikia is not accessible if you've made further modifications. Remove the custom ad blocker rule(s) and the page will load as expected.
Uprising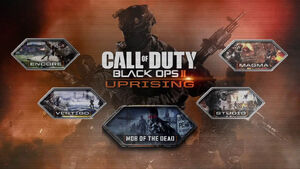 Promotional Art.
Game
Call of Duty: Black Ops II
Contents
Multiplayer Maps
Vertigo
Studio
Encore
Magma
Zombie Mode Maps
Mob of the Dead
Date Released
Xbox 360 - April 16th, 2013
PlayStation 3/PC - May 16th, 2013
Price
Xbox Live - 1200 MS Points
PlayStation Network - $15.00 (£11.59/€14.45)
Steam - $14.99
Free with Season Pass
Uprising is the second downloadable content pack for Call of Duty: Black Ops II. It contains the multiplayer maps Vertigo, Encore, Magma and Studio and a new zombie map Mob of the Dead.
Multiplayer Maps
Edit
Zombies Map
Edit
Achievements/Trophies
Edit
| Name | Description | Points | Trophy | Image |
| --- | --- | --- | --- | --- |
| Paranormal Progress | In Mob of the Dead, open a door without spending points. | 5 | Bronze | |
| Feed the Beast | In Mob of the Dead, obtain Hell's Retriever. | 10 | Bronze | |
| A Burst of Flavor | In Mob of the Dead, kill 10 zombies at once with a new beverage. | 15 | Bronze | |
| Trapped in Time | In Mob of the Dead, use and upgrade all traps before round 10. | 15 | Bronze | |
| Acid Drip | In Mob of the Dead, cover a weapon using a kit. | 20 | Bronze | |
| Full Lockdown | In Mob of the Dead, Brutus completes his patrol. | 25 | Bronze | |
| Pop Goes the Weasel | In Mob of the Dead, break the cycle. | 25 | Bronze | |
| GG Bridge | In Mob of the Dead, survive an entire round on the bridge on round 15 or higher. | 30 | Bronze | |
| Making the Rounds | In Mob of the Dead, complete the cycle 3 times. | 30 | Bronze | |
| No One Escapes Alive | In Mob of the Dead, execute the escape plan. | 75 | Silver | |