Userbar will update my XBL status when I go online or offline.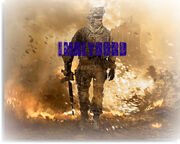 As an administrator
Hello! I am an administrator here on the Call of Duty Wiki. If you have any issues, comments, questions, or concerns that relate to Call of Duty, the wiki, or anything else (really, anything at all), feel free to leave a comment on my talk page. I will get back to you as soon as possible.Happy editing!
My Xbox Live Gamertag is Mcdonaldsburger. I accept most friend requests. If my friends list is full (it probably is), send me a message saying who you are (and that you are from the wiki if I don't already know you) and I will remove someone to add you.
My YouTube username is imrlybord71 (lost the email and password for imrlybord7, whoops).
My Resume on the Wiki
1. I was the first person to introduce the correct weapon/perk/attachment stats to the CoD wiki thanks to the charts made by Den Kirson. I have also written a considerable portion of the weapon/perk/attachment pages for CoD4, WaW, and MW2, as well as some of the more technical pages which I am currently working on like the Infinity Ward Game Engine Mechanics page.
2. I created the pre-release weapon list for MW2 by going through all of the pre-release media. My work has been plagiarized in dozens, if not hundreds, of MW2 pre-release weapon list YouTube videos. If they say "definite" or "highly probable," that's my work.
3. I do a lot of maintenance to all sorts of articles which includes maintaining things like grammatical correctness, policy standards, factual accuracy, and article neutrality.
4. I fix vandalism and warn or block the perpetrators.
5. I have added considerably to the Call of Duty Wiki:Manual of Style, one of the most important guides to follow for our editors.
6. I provide input in constructive community discussions, which can cover anything from creating and amending policies to settling disputes.
7. To see my edit count and distribution, check out Special:Editcount/Imrlybord7.
| | |
| --- | --- |
| | WARNING: This User is an Enforcer (BEAST). |
Doing what it takes to protect the wiki--

Imrlybord7