The Bomb Has Been Planted !!! (Five seconds later) BOMB DEFUSED !!!
-Me Refering to the amount of Ninja Defuses done by myself in Multiplayer.
RedMist0765
Name
adarsh0765 (PSN ID)
Nickname(s)
Wightmare
Gender
Male
Nationality
Mauritius,Indian Ocean.
Appears in
Call of duty 4 (former),Call of Duty: World at War (Former), Call of Duty: World at War: Final Fronts, Modern warfare 2, Call of Duty: Black Ops.
Rank
Sergeant First Class

Affiliations

United States Marine Corps, Op 40, Central Intelligence Agency.
Status
Active
Birth
Ask me
Death
[Loading..]
Weapon
Kar98k, M1 Garand, M1 Carbine, MAS 38.M14, M1014, Dragunov, M21, USP.45, Desert Eagle.Kar 98k, M1A1 Carbine, M1 Garand, SVT-40, Tokarev TT-33 FAL, F2000, MP5k, Vector, AUG HBAR, WA2000, M14 EBR, PP2000, M9, Desert Eagle, Riot Shield, Javelin, Stinger.M14, AUG, G11, FN FAL, HK21, HS10, ASP, Makarov.
About Myself.
Edit
Welcome to my Userpage. I'll be round here editing,adding weapon pics and sharing my knowledge bla bla bla....I'am On PS3 and I come from Mauritius (A Tiny Little contry in the Indian Ocean). The first Call of Duty game I've purchased was Modern warfare 2. I Play Dead and HEAVILY go for Ninja Defuses in Modern warfare 2.(A total of 37 Ninja Defuses )I also Use Riot shields :D

IN Black ops I'am Currently using HK21 ,G11 and M14. (No FAMAS or AK-74u for me :) )
I Also have World at war:Final Fronts on Playstation 2.
Goals On this Wiki.
Edit
Here's a list of my goals on the call of duty wiki:
HAVE FUN.
HAVE FUN
HAVE FUN..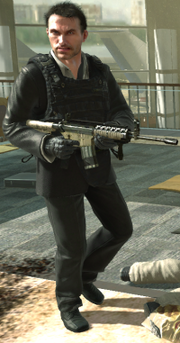 Favorite Class Loadouts
Edit
Heres a list of my Favorite Custom classes.
Call of Duty 4
Primary:M14 Red Dot Sight.
Secondary:M1014
Perk 1:Bandolier
Perk 2:Overkill
Perk 3:Deep Impact
_________________________
Primary:M21
Secondary:Skorpion
Perk 1: Bandolier
Perk 2:Overkill
Perk 3:Deep Impact
_________________________
Primary:M4A1 Carbine Red Dot sight
Secondary: Desert Eagle
Perk 1: Bandolier
Perk 2:UAV Jammer
Perk 3: Extreme Conditioning.
_________________________
Modern Warfare 2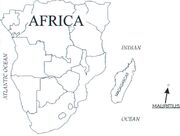 ____________________
Primary:MP5k Silenced
Secondary: Desert Eagle Tactical knife
Equipment:C4
Special: Smoke Grenades
Perk 1: Marathon Pro
Perk 2: Cold-Blooded Pro
Perk 3: Ninja Pro
Classic SnD Class
_____________________
Prmary:F2000 Extended Mags
Secondary: Desert Eagle Akimbo
Equipment: Frag
Special: Flash Grenade
Perk 1:Scavenger Pro
Perk 2:Stopping Power Pro
Perk 3:Steady Aim Pro
YAY F2000 !!!
_____________________
Primary:WA2000 Extended Mags
Secondary:PP2000 Silenced
Equipment:C4
Special: Smoke Grenades
Perk 1:Sleigh of hand Pro

Perk 2:
Cold-Blooded pro

Perk 3:Ninja Pro
Finally got Extended Mags lol
_____________________
Primary:M21 EBR Silenced
Secondary: TMP Silenced
Equipment:C4
Special:Smoke Grenades
Perk 1:Scavenger Pro
Perk 2:Cold-Blooded Pro
Perk 3:Ninja Pro
Used Excusively in Wasteland , Derail , Underpass .(and Hardcore Games)
______________________
Primary: Vector Silencer
Secondary: Striker Extended Mags
Equipment: Blast Shield
Perk 1: Marathon Pro
Perk 2: Cold-Blooded pro
Perk 3: Scrambler Pro
My KAMIKAZE class used in Search and Destroy only, funny thing about it is that i get the most kills along with the most deaths. Marathon for Speed, Scrambler for negating claymores, and Blast shield for Protection against explosives AND STUN GRENADES ..Why i picked Striker ? Its the best shotgun to use with Cold-Blooded :)
Call of duty:Black Ops
Primary: HK21 Extended Mags
Secondary:ASP
Equipment:Frag Grenades
Special:FlashBangs
Perk 1Scavenger Pro
Perk 2:Sleight of Hand Pro
Perk 3:Hacker
______________________
Primary: M14 Grip w/Red Dot Sight
Secondary:ASP
Equipment:Semtex
Special:Concussion Grenades
Perk 1Flak Jacket Pro
Perk 2:Warlord Pro
Perk 3:Marathon Pro
_____________________
Primary:G11 Low Power Scope
Secondary:Crossbow
Equipment:Semtex
Special:Flashbang
Perk 1:Ghost Pro
Perk 2:Sleight Of Hand Pro
Perk 3:Hacker
_____________________
| | |
| --- | --- |
| ' | This user loves the Desert Eagle! |
| | |
| --- | --- |
| | This user knows the SPAS-12 has too much power. |
| | |
| --- | --- |
| | This user plays COD on PS3, but couldn't care less about whose console is "better". (Play the game on your console and enjoy it, there's no need to insult everyone else's console of choice) |
| | |
| --- | --- |
| | This user plays COD on PC, but couldn't care less about whose system is "better". (Play the game on your system and enjoy it, there's no need to insult everyone else's system of choice) |
Random Pics
Edit