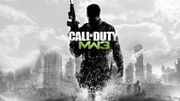 Hi, I'm obviously Sam, and this is my homepage. I don't do much editing around the wiki as all I know is pretty much already in the wiki, but that doesn't stop me helping out every now and then. Other than that, the main thing I do is try to keep order on the blogs due to the amount of arguments usually starting. Isn't the internet great? I'm usually on every day so I'll be there if you need me, which you probably won't. Have fun!
Call Of Duty Rap
Edit
My name is Sam. I'm the Man.
I play Call Of Duty, whe'never I Can.
I think Call of Duty 4 is the Best,
Its relatively simple unlike the Rest.
Don't get me wrong, I enjoy the others too,
Such as Call Of Duty Modern Warfare 2.
I tend to use the SCAR for its awesome power,
"'RAMIREZ! GET MY WIFE SOME FLOWERS!"
I think that Juggernaut is rather nooby,
Thank god that its removed from Call Of Duty.
Last stand has been removed in MW3,
Well thats too bad, for you, not for me.
Ha, Ha, I'm cocky, but thats what you get,
When you've played Call Of Duty without internet.
I'm really looking forward to Modern Warfare 3,
Don't worry about Multiplayer, It'll be good, you'll see.
I hoping we can play as the SAS,
Cause the British Special forces are better than the rest.
Come on, we got Price and Soap and Ghost,
What has Makarov got, he don't seem to boast.
And this is the end of my Call Of Duty Rap,
If you don't like it, I don't give a crap.
If you need me, I'm on Black Ops, the blast from the past,
Playing on PS3 in a Gunship, Kicking your ass.
I hope that you all have had a good time,
Now play some Call Of Duty, its better than crime.
Ghost is DeadEdit
Deal with it.