Shepherd's ghost is a user on the Call of Duty wiki. He has owned his X-Box 360 and been a user since February. His favorite games include Call of Duty: Modern Warfare 2, Call of Duty: World at War, and Grand Theft Auto IV: The Ballad of Gay Tony. His inexperience with gaming means he is sometimes reg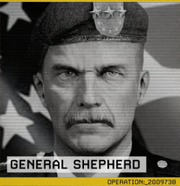 arded as newbish, but slaves to achieve the valor and confident warfare of his peers who have been playing for many years.
Biography
Edit
Shepherd's ghost, gamertag kearnsinator, bought himself an X-Box 360 Elite on January 28th, 2010 and registered with the wiki on Febuary 10th, 2010. He almost always plays Team Deathmatch for it's simple pleasure. His favorite maps in mw2 are Terminal, Bailout, Karachi, and Invasion. Favorite campaign levels are No Russian, Wolverines!, The Hornet's Nest, Whiskey Hotel, and Endgame. His favorite Nazi Zombies map is Shi No Numa.
Shepherd's ghost enjoys to take part in online battle stories, he narrated for "A battle", served as SSgt. in "The Black Phoenix" and flew extraction helicopters in "Crimson Eagle".
Shepherd's ghost sees the pros of his namesake, the fact he is a mustachioed military leader who fights with his men and turns a blind eye to his corruption and murder. Still, he found his death rather underplayed and they could've done a better job with the blood spray.
Shepherd's ghost does not support recent administrative decisions and restrictions that punish all users for the stupidity of others.
Games Owned
Edit
Call of Duty 4: Modern Warfare
Call of Duty: Modern Warfare 2
Grand Theft Auto IV
Medal of Honor: Airborne
Dead Rising
Red Dead Redemption
Favorite Weapons
Edit
An array of good weapons is key to winning a game, after all how else would one do so? Here are Shepherd's ghost's favorite weapons from the entire franchise
Pistols: Luger, Desert Eagle, .357 Magnum, TT-33
Machine Pistols: M93 Raffica, G18, TMP
Bolt-Action Rifles: Mosin-Nagant, Springfield, Kar98k
Semi-Automatic Rifles: SVT-40, M1A1 Carbine, Gewehr 43
Shotguns: Double-Barreled Shotgun, AA-12, Striker, Model 1887
Submachine Guns: Thompson, Sten, AK-74u, Mini-Uzi
Assault Rifles: AK-47, M16A4, StG-44, ACR, M4A1 Carbine
Sniper Rifles: WA2000, M14 EBR, M82 .50-Caliber
Support Guns: BAR, Bren, FG-42
Rocket Launchers: FIM-92 Stinger, RPG-7, M9A1 Bazooka
Machine Guns: M240, M2 Browning, DP-28, MG-42
UserBoxes
Edit
Some Gun Creations
Edit
Here are Shepherd's ghost's pimp my gun creations:

The Green Heart he received for purging real-life gun information from various Soviet and British weapons during the May 2010 cleanup
The admins need to be up against a fellow like this to test their "leadership"...

Friends on the Wiki
Edit