Welcome stranger!
Edit
Well, this is my page. Not anything big, but i plan to mabye become one of the big guys sometime. At the time im a student at a normal school and will soon start at High School to Become a carpenter. I Also play Call of Duty games (The reason why im a user on this wikia) but also plays other games. Well don't realy have anything more to say than: Enjoy my userpage and have a good time.
My goals for this wiki:
Edit
Try to get high quality pictures for every article, something i need help with from other on this wikia. Have every important detail about each and every article.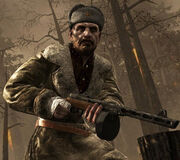 Things i Hate:
Edit
1: Justin Bieber (Not gonna be a hater, but comon. When a 16 year old that sounds like a girl becomes one of the worlds most known persons, you get pretty pissed)
2: Scool (Yeah, i know it's important but after three hours of complete boringness you know someone's gonna pay for it).
3: Bad food.
4: People who say xbox is better than ps3 and the other way around. I mean, seriously, can't gamers be gamers just because of their consoles? Sure, ps3 got games xbox don't have and xbox got games ps3 don't have, but if that's a problem you can either get both consoles or just leave it be.
5: Homeworks (First they make you go to scool, and then makes you take it home to do it there AFTER school??!?)
6:Being shot by a softgun (Seriously, it hurts!).
7: The fact that the human race is going the wrong way. People are getting dumber because of the internet (I'm not blaming the internet itself, but some people abuse it, you know the rest).
Things i love :D
Edit
1: Pwning in a game.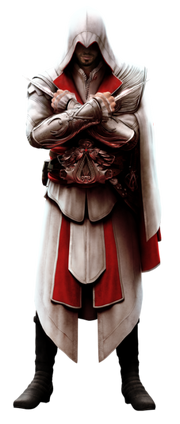 2:Cute girls
3:Coca-Cola.
4:Weapons (Somehow, i got a big love for guns)
5:Chocolate/candy.
6:Facebook.
7:Che Guevara (Ye, im a Che Guevara fan)
8:Metal Gear Solid
9: Mah hometown.
10: Norway, my homecountry.
Games i own
Edit
Call of Duty (Classic)
Call of Duty 2
Call of Duty 4: Modern Warfare
Call of Duty: World at War
Call of Duty: Modern Warfare 2
Call of Duty: Black Ops
Battlefield: Bad Company 2
Just Cause 2
Red Dead Redemption
Sniper Ghost Warrior
Portal
Portal 2
Counter Strike Source
Day of Defeat Source
Guitar Hero 5
Guitar Hero Warriors of Rock
Tekken 6
Minecraft
Terraria
Dead Island
Assassin's Creed 2
Assassin's Creed Brotherhood
And some others
Add me on PSN or Steam: Tom_the_fish
Please let me know if you are a wikia user if you add me.
"JOIN ME GOD DAMNIT" - When someone refuses to join me even if they got nothing better to do.
"If i'm stupid then what the f*ck are you?" - When someone calls me stupid even when they can't say an extremly easy sentence.
"QUUAAAAAAAD!!" - Me when i get a double kill with a Sniper Rifle (Yes i know you got to get 4 kills to make it a quad)
"What do i do now?! -When i don't know what to do in Metal Gear Solid
"What shall i choose?" - Normaly when there are tons of games i know i want at Gamestop but don't know which one.
"Headshot BITCH!" - When i get a satisfying headshot :3
I own some softguns, and they are as fun as it gets, i recomend it to everybody.
I currently own a M4A1, Desert Eagle and a M1911. But i'll soon get an MP7,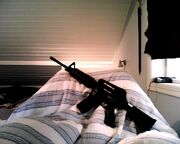 MP5 or UMP45
Recently my cat died, he was found dead just by my house after being lost for some time. We don't know what happend or why, but everyone was sad, even my grandpa. After this experience i became much more sesitive and cared alot more about animals and humans. He (My cat) was an awesome pet and one of the best friends a man can have. Everyone loved him and he loved everyone. He could beat up a dog if he wanted too, and was king over all the other cats in he neighbourhood. He's name was Sofus
We (I and my family) recently got a new cat, he's name is Simba. He's awesome, but can be a pain in the ass sometimes. Here is a picture of him: