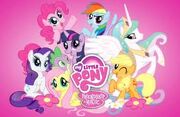 Welcome to your userpage! Why don't you edit this page and tell us a bit about yourself?
Yea I'm UglyTurtle. I'm not around much. You can find me on Turtle Random WIki.
I'm a Bronie (at least I think.) A Vegeta fan and, well that's about it. I'm Starting to like MLP FiM more and more. So now you can also find me on
MLP FiM Wiki.
I don't play CoD. = p
I came here for one reason and one reason only, PONIES!