beuty of death

Added by

URL

IntroEdit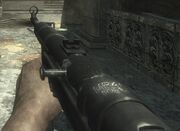 yo whats up peoples eoghan aka ww2 fanatic here just sayin sup
em a little a bit about me
name: eoghan lowe
age:14
from: ireland
loves:
world war 2 and guns
PlayStation: PSN: bansees_RULE
My cod history
Edit
well my cod story started off with call of duty finest hour on the ps2.
back then i did not have a internet connection so i played the singleplayer over and over again hehe i must of completed it over 20 times ha.
Then my next cod title was call of duty 3 for the ps3.
multiplayer i think was not big on that game so i stayed with the singleplayer until my first big cod title: call of duty 4 modern warfare not much to say there except for i got to tenth level prestige and thought it was the second best cod game ever :)
but the best game i think was call of duty world at war :D
this game was excellent except for the odd mp40 jugernaught haha. still i completed the game in every area
then came call of duty modern warfare 2. this game... hhhhhhhmmmmmm a hard one im second level prestige level 57 and im currently fed up with it to be honest ha so lets see how that goes.
my favourate guns out of all are the kar98k, MP40, M1A1 thompson and the M1 garand i guess i love them because they are all legendary and so iconic as general patton once said about the m1 garand is "the gun that won the war".
eh my favourate playlists for cod waw is hardcore teamdeath match and capture the flag just because simply you don't have to use stopping power and i like using a scoped kar98k with a silenced mp40 or scoped m1 garand with a thompson with round drum (don't hate me for it) ha
see you latas guys :D
I got 180 edits!!! woohhhooo
10th level prestige on cod waw 16/7/2010 wwwooooohhooo finally
300 edits