I have been an active member for 12:37, July 3, 2010 UTC This message will be displayed if the timer does not show up (like if you do not have javascript enabled on your browser) and counting!
Quotes — Images — Contributions — Talk — Dictionary — wikia.js — wikia.css
Now evolved because I have a broken B button, whoops.
Stupid intro :P
Edit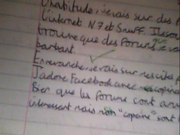 Ohai
kid
, it's the YellowLucario dude, if I'm not on Xbox I'm here. I've got a stupid habit of rushing people but hey, I've played my part in fairly big operations by pulling this. Always a good compromise. I like talking to the big boys (and girls) around here and I like to help them. My Xbox Live gamertag is YellowRiolu, my favourite CoD game is CoD2, it's a shame no-one plays it anymore :( Ask me on my talk page to add me.
Band Twitter
Edit
Personal Twitter
Edit
Where do I edit?
Edit
| Wiki | Rights |
| --- | --- |
| Call of Duty Wiki | Rollback |
| YellowRiolu Wiki | Founder |
| Call of Duty Answers Wiki | Administrator |
One-liner collection. (Randomly generated)
Edit
"An Atomic Bomb? What are you trying to do? Kill everybody in the game, or destroy Alaska?"
— Jar
"THIS. IS. SPARTA! *quietly but loud enough to confuse Richard Hammond*"
People I think are my friends on Wiki (add yourself if you think so)
Edit
Pages I made
Edit
WIN VIDEO
Edit
Userboxes
Edit