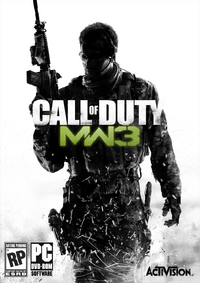 Unlike the first Modern Warfare, which eventually made it to the Nintendo platform as the Reflex Edition, Call of Duty: Modern Warfare 2 was never ported to the Wii. However, given that Call of Duty: Black Ops was released on the Wii simultaneously with the PC, PS3 and 360 versions, it's no surprising that Call of Duty: Modern Warfare 3 will also follow suit, as has just been announced by Activision.[1]
The game is coming to the PlayStation 3, Xbox 360, and PC on November 8. It's not known yet whether the Wii release will be simultaneous with the other three, but it will definitely be released this fall.
Like Call of Duty: Modern Warfare: Reflex Edition, Treyarch will be porting the game over to the Wii as opposed to Infinity Ward. [2]
---
References
---
Ad blocker interference detected!
Wikia is a free-to-use site that makes money from advertising. We have a modified experience for viewers using ad blockers

Wikia is not accessible if you've made further modifications. Remove the custom ad blocker rule(s) and the page will load as expected.