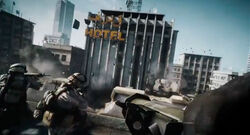 If you were trying to find Call of Duty: Modern Warfare 3 by simply entering the most intuitive URL in the browser, you could be very surprised.
As it turns out, the domain's owner (obviously not Activision) directed it to the third installment in... Electronic Arts' Battlefield series.
The domain was registered via a proxy in 2009, and it's not clear whether Electronic Arts is behind it, or perhaps simply some Battlefield fan. The latter is more likely, although the former wouldn't be that surprising, given that EA is suing Activision for rights to Modern Warfare together with the Infinity Ward founders that were fired by Activision.
Who knows, maybe if EA wins the lawsuit, the next Modern Warfare game will be a new installment of the Battlefield series rather than Call of Duty?
Source: The Escapist
Ad blocker interference detected!
Wikia is a free-to-use site that makes money from advertising. We have a modified experience for viewers using ad blockers

Wikia is not accessible if you've made further modifications. Remove the custom ad blocker rule(s) and the page will load as expected.