Comments

455
Black Ops becomes top selling U.S. video game of all time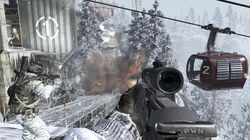 Since its release in November, Call of Duty: Black Ops has sold over 13.7 million copies in the United States across all platforms, making it the top selling U.S. video game of all time.
The number has surpassed that of the now second place Wii Play w/ remote bundle, and runner-up Call of Duty: Modern Warfare 2.
At time of writing, Call of Duty 4: Modern Warfare made the top ten at number six (now number 7), and Call of Duty: World at War was formerly on the list, and had placed tenth.
EDIT: These stats in regards to sales (particularly the last 5 on the list) appear to have changed. The above paragraph has been edited to reflect this.
---
Original/source article: IGN - Black Ops the Best-Selling Game in U.S. History