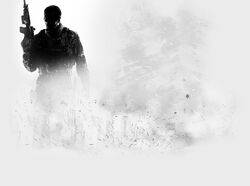 We've decided to "modernize," if you will, our background theme to that of Modern Warfare 3. With help from JoePlay of course.
Can't see it? Clear your browser's cache and force refresh.
Tell us what you think of it in the comments below!
---
Ad blocker interference detected!
Wikia is a free-to-use site that makes money from advertising. We have a modified experience for viewers using ad blockers

Wikia is not accessible if you've made further modifications. Remove the custom ad blocker rule(s) and the page will load as expected.