Comments

528
Treyarch begins staffing for next project. MW3 announcement next month.
Recent job offerings by Treyarch suggest the developer is preparing to produce the ninth main installment of the Call of Duty series.

It was recently spotted that Treyarch has put up a job advertisement on their website, looking for a gameplay combat designer. Any applicant, as it states, is to see "the design director for the Call of Duty multiplayer team at Treyarch."
The Call of Duty developer is also interested in employing a script designer that can make "a design test utilising Call of Duty mod tools."
Accepted candidates will work on "combat systems (such as weapons and attachments) and gameplay mechanics (such as Perks and spawning)."
Considering the descriptions of these job postings, and what Mark Lamia has stated about Treyarch now being a "100 percent Call of Duty studio," it can be determined that Treyarch is probably looking for new staff members to help with the production of their next Call of Duty game.
Any future Treyarch-produced Call of Duty game, however, would probably be released in 2012, considering Modern Wafare 3 is now expected to be released this year.
---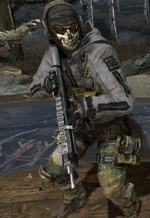 According to the UK PS3 magazine PSM3, an official announcement for Modern Warfare 3 may come next month. Although no definite date is given, the inside rumors that the latest issue of the magazine cites say "the next in Activision's megaton FPS series will be announced in mid-April."
Call of Duty: Black Ops was officially announced by Activision on April 30 last year, which could yield some truth to these rumors.
Additional claims provide that the character Simon "Ghost" Riley will make an appearance in what is said to be a prequel to the events of Modern Warfare 2.
PSM3 also further comments: "Based on the ending of MW2, we'd be surprised if the story doesn't pick up with Soap and Price on the run, after they were set up by General Shepherd."
Should Modern Warfare 3 be released this year, it would surely face heavy competition, primarily from DICE's Battlefield 3. DICE has spoken out the Call of Duty developers and other first-person shooter game design studios, citing that "they are not innovating."
---
Original/Source articles:
---