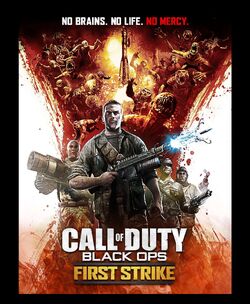 First Strike
for the PC will be arriving this Friday, here is a quote from Black Ops' Facebook page.
"

PC Fans, be sure to Pre-Purchase First Strike on Steam today so you're fully prepared for a weekend of gaming! First Strike will be available on PC this Friday, March 25th.

— Facebook

"
Still no news on the DLC status for the Wii.
Any thoughts on it arriving so late? Do you feel neglected as a PC player?
Ad blocker interference detected!
Wikia is a free-to-use site that makes money from advertising. We have a modified experience for viewers using ad blockers

Wikia is not accessible if you've made further modifications. Remove the custom ad blocker rule(s) and the page will load as expected.