November 3 2017 00:00 UTC
This message will be displayed if the timer does not show up (like if you do not have javascript enabled on your browser)
Similar to my previous blog, here's a round-up of all the information released so far for the multiplayer of WWII.
Headquarters
Headquarters was a new feature revealed during the Call of Duty: World War II lifestream. Unique to multiplayer, it is a social area where players can interact in-game. In an interview with GamesRader, Michael Condrey further explained the feature, "Imagine a Call of Duty space that provides that, anchors you in World War 2, and continues your social engagement and your attachment to your avatar in a really transformational new space with other community members.". Furthermore, it will recognise the achievements of players, such as prestiging.
War
An objective based gamemode called "War" will be appearing in World War II's multiplayer. Described by Michael Condrey as a "series of objective-driven conflicts", he explained further, "for the Allies maybe it's 'push through the hedgerows, take the hill – destroy the radio tower and then take out the 88s' right? From the German perspective it would be 'hold the line at the hedgerows, if you lose the line pull back to the barn, and if you lose the barn pull back to the radio tower – if you lose the radio tower, defend the 88s." Furthermore, the gamemode "focuses this idea that it's a conflict between squads that have to work together; it's not a lone soldier experience."
Divisions
Details are pretty sparse, but Divisions has been described in an Activision blog post as "A new approach to Create-a-Class and character customization as you enlist in a division and progress through the ranks."
Zombies Mode
Call of Duty: World War II will contain a zombies mode with an "entirely new story". Glen Schofield also described the mode as a "horrifying experience, and added the story would follow the "story of the Third Reich's desperate attempt to create an army in the final stages of the war".
Other Points
A private beta for the game has been announced for those who pre-order. As per the agreement between Activision and Sony, PlayStation 4 will receive it first.
The multiplayer reveal will occur at E3 2017, which takes place between 13-15 June in Los Angeles.
---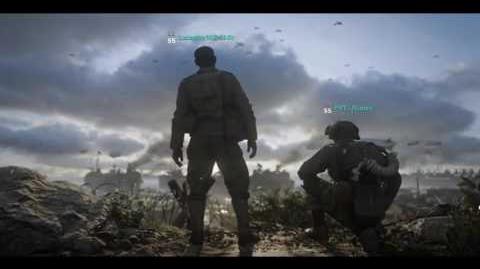 ---
Source: Activision's Blog and GamesRader
---
Ad blocker interference detected!
Wikia is a free-to-use site that makes money from advertising. We have a modified experience for viewers using ad blockers

Wikia is not accessible if you've made further modifications. Remove the custom ad blocker rule(s) and the page will load as expected.