Now that Call of Duty: Modern Warfare 3 and Battlefield 3 has been released, the "flaming" has reached its peak. Why? Becuase on IGN and many other websites, these two games have both been rated 9.0/10. Now, all fanboys(especially BF3 fanboys) of these two games will have to understand that its a draw, and there is no more competition between these juggernauts. So now we(pros) can be smart and peaceful in being neutral and playing the game you prefer. Laterz!

CoDE-2KGo to my talk page!21:10, November 8, 2011 (UTC)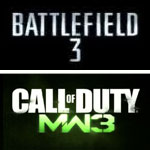 Ad blocker interference detected!
Wikia is a free-to-use site that makes money from advertising. We have a modified experience for viewers using ad blockers

Wikia is not accessible if you've made further modifications. Remove the custom ad blocker rule(s) and the page will load as expected.