Treyarch has now released a patch for the Xbox 360 and PS3. They addressed several issues and have added new features:
Over 400 brand new Contracts
Practice Dummies (aka, AI bots) in offline Local Split Screen
A new camera editing mode in Theater called "Dolly Cam"
"Load Multiplayer by Default" option for the PS3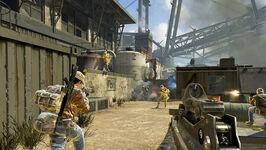 Read more here!
---
Comments disabled to stop future flamewar -StB
Ad blocker interference detected!
Wikia is a free-to-use site that makes money from advertising. We have a modified experience for viewers using ad blockers

Wikia is not accessible if you've made further modifications. Remove the custom ad blocker rule(s) and the page will load as expected.