According to a trusted source of Charlieintel.com, the contents of new personalization packs for Call of Duty: Ghosts have been revealed. The packs are both Camo Packs and Character skins, and are listed below, transcribed from Charlieintel.
Content
Legend Pack – Price
Become Captain Price in Call of Duty®: Ghosts Multiplayer. "Stay Frosty" as one of the most legendary Call of Duty® heroes of all-time with a classic Price Character and unique Personalization Pack featuring a Price-themed weapon camo, reticle, patch, playercard and background.
Character – Elias
Step into the boots of Captain Elias Walker, leader of the Ghosts, in Multiplayer. The classic styled mask of this Special Forces icon will strike fear into any enemy.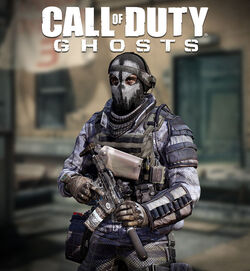 Character – Hesh
Step into battle as Hesh, the newest member of the Ghosts, in Multiplayer. His distinctive face paint mask sets him apart from the rest of his deadly brethren.
Character – Merrick
Wear the distinctive "half mask" of Merrick, the Ghosts field commander, in Multiplayer. This former record-setting Special Forces operator is the heart and soul of the deadliest force in the ongoing battle against the Federation.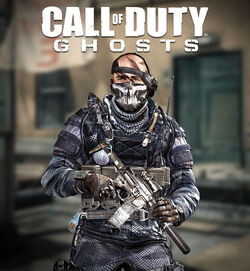 Character – Keegan
Earn the mask of the Ghosts most distinctive member in Multiplayer. Keegan, with his Quad-NVGs, brings an intimidating look to any match.
Inferno Pack
Make your customization options even hotter with the Inferno Personalization Pack. Get an all-new flame weapon camo, reticle, patch, playercard and background.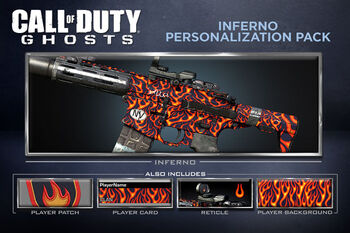 Ducky Pack
With the Ducky Personalization Pack, a small army of squeaky yellow soldiers decorate your weapon in the form of an all-new themed camo, reticle, patch, playercard and background.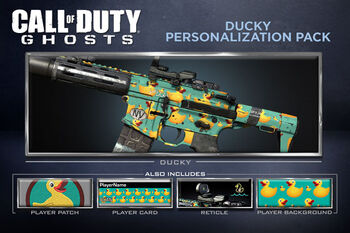 Circuit Pack
Enhance your customization options with the Circuit Personalization Pack. Get a high-tech weapon camo, reticle, patch, playercard, and background.
Extra Slots Pack
Get more choices as the battle unfolds. The Extra Slots Pack increases the number of customizable Create-A-Soldier loadout slots from six to 10 for each character, that's up to 40 additional loadout slots across 10 characters.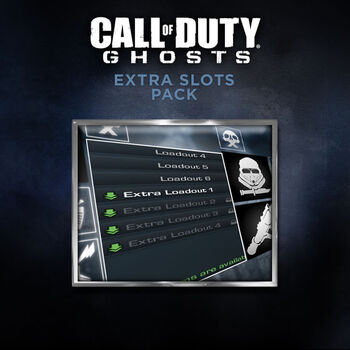 Space Cats Pack
Out of this world cute, yet ferocious, the Space Cats Personalization Pack delivers a feline-filled weapon camo, custom reticle, patch, playercard and background.
All of these are expected to go live February 20th on Xbox Live; we don't have an exact price yet, we'll keep you posted once we hear more on these new packs.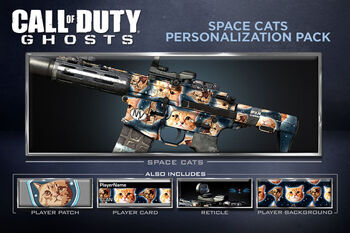 Source
Ad blocker interference detected!
Wikia is a free-to-use site that makes money from advertising. We have a modified experience for viewers using ad blockers

Wikia is not accessible if you've made further modifications. Remove the custom ad blocker rule(s) and the page will load as expected.