I do! And let me tell you something, I have ways to torture them!
And I will be sharing them with the great fans of Call of Duty!
WARNING! Do NOT USE WD40 WITH A LIGHTER OR IT MAY CAUSE SERIOUS DAMAGE!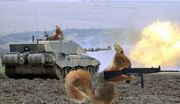 Here's some:
Lighter-Nothing is more fun then seeing a toy man with his legs missing!
Your pet-A new chew toy!
Lawn mowers-Hey, where did his head go?
SCISSORS!!!-Chop Chop!
And worst of all... EDUCATIONAL TELEVISION!!!!!!!- OH THE HORROR!!!!!!!
FIRE WORKS!!!!-Such as: M-80's, bottle rockets, and the big cougar finale!!!
I have tried 1,3,4,5, and even 6!!!
But they keep taking over the kitchen!
AAAHHH!!!! THEY GOT ME! THEY-----
Dbx25 15:47, May 16, 2010 (UTC)
Ad blocker interference detected!
Wikia is a free-to-use site that makes money from advertising. We have a modified experience for viewers using ad blockers

Wikia is not accessible if you've made further modifications. Remove the custom ad blocker rule(s) and the page will load as expected.