BIN LADEN IS DEAD, US OFFICIALS SAY
Osama Bin Laden, the most wanted terrorist in the world, is dead. He was killed today as the result of a U.S. Navy SEALS operation in Pakistan. This was announced at 10:30 PM Eastern time by President Barack Obama. Bin Laden's death comes eight years to the day from former President Bush's now-infamous "Mission Accomplished" speech aboard the USS Abraham Lincoln. Thousands of Americans have swarmed to the White House, waving flags and cheering in celebration. So far, talking heads on CNN have likened this to killing Hitler, and have called it "the end of the war on terror." It is without a doubt one of the most important political moments in the last ten years of American history.
And now, because this is a comedy blog: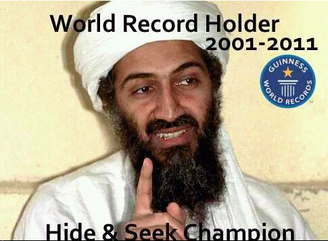 And for WHISKEY35 and those "Neurotically Yours" fans, Foamy gives a speech:
Ad blocker interference detected!
Wikia is a free-to-use site that makes money from advertising. We have a modified experience for viewers using ad blockers

Wikia is not accessible if you've made further modifications. Remove the custom ad blocker rule(s) and the page will load as expected.