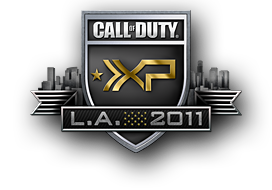 If you didn't know yet, Tickets for the Call of Duty XP 2011 event being held from September 2nd to the 3rd, have been released to the public. Tickets are $150 and are valid for both days, with 100% of ticket sales going to the Call of Duty Endowment, a non-profit organization which seeks to help war veterans find work and establish careers as they adjust to civilian life. Your ticket will include admission to all events and activities.
Individuals can buy a maximum of two tickets. Full name and info is required for each attendee, and you must present your ID to claim your ticket. You do not have to be the ticket holder to purchase tickets on behalf of your guests, but the name on each ticket must match the person attending. You will be asked to join our Facebook app for each ticket holder if you have a Facebook account. At the event the application will keep track of your scores and participation. You have 15 minutes to complete the registration process and purchase your tickets.
Attendees must be 18 years of age or older and bring a valid photo ID. Call of Duty XP will be filmed, and all attendees grant permission to include their likenesses, images and voices in such filming. Attendees voluntarily enter Call of Duty XP and assume all risk of injury associated therewith. Attendees also understand that they may be required to sign a release to participate in certain events at Call of Duty XP.
Purchase a ticket here for Call of Duty XP.
---
Travel Packages
While you will have to find your own way to get there and back, you can avoid overpriced hotel room rates, overnight hotel parking fees for a rental car, and taxi fees to and from Call of Duty XP by taking advantage of one of the 2, 3, or 4 night travel packages that are available.
Travel Packages:

Note: You will be able to purchase one of the travel packages on this site once you have bought your Call of Duty XP ticket.
The packages include hotel accommodations (single occupancy and double occupancy available) at reduced rates, all hotel taxes and service fees, special Call of Duty XP check in, and VIP event transfers to and from Call of Duty XP on September 2nd & 3rd. Special airline codes are also available in order for you to receive the best rates possible when booking your flight to Los Angeles. Additional information and ability to book official Call of Duty XP travel packages will be sent once your ticket confirmation is received.
---
Other Links:
Commenting Disabled- More of the Pony BS.

CoaZTalk

18:50, August 5, 2011 (UTC)
Ad blocker interference detected!
Wikia is a free-to-use site that makes money from advertising. We have a modified experience for viewers using ad blockers

Wikia is not accessible if you've made further modifications. Remove the custom ad blocker rule(s) and the page will load as expected.