Original Blog can be found here, created by Bovell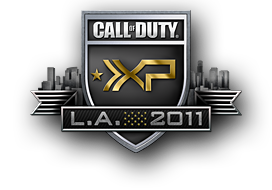 "Immerse yourself in the game you love at the first ever Call of Duty® XP, the ultimate Call of Duty® experience. From our million-dollar tournament, the chance to play Modern Warfare® 3 two months early, the ultimate paintball firefight on a life-size re-creation of Scrapyard, the spectacle of running the Pit, and the reveal of the innovative features of Call of Duty®: Elite, this epic event brings Call of Duty® to life. Anyone that can't be there but wants to connect to the action can link up through our numerous broadcast outlets. Your Call of Duty experience is about to get real."
— Activision
Activision has announced "Call of Duty XP 2011", a huge community event which will be held from September 2-3! Located in the Los Angles Area, CA; this event will give you the chance to play Call of Duty: Modern Warfare 3 two months early, with a chance to win a million-dollar tournament! You will also have the chance to run The Pit for real, allowing you to show us your speed running tactics and to win prizes and bragging rights.
"From the high production values of our live, immersive events – all the way to the smallest details in every design and activity – we're pulling out all the stops to make Call of Duty XP the ultimate gathering for the global community of Call of Duty fans"
— Eric Hirshberg, CEO of Activision Publishing.
Attendees will be able to get first-hand experience with MW3's Multiplayer and Spec-Ops survival co-op mode, giving them the first hand when the game comes out on November 8, 2011. They also plan to reveal all the features of the Call of Duty ELITE service, likely to announce the price of the premium service and content.
Ticket are however $150, with 100% of ticket sales going to the Call of Duty Endowment, a non-profit organization which seeks to help war veterans find work and establish careers as they adjust to civilian life. Each ticket is an all-inclusive pass to the two-day event which features opportunities to play Call of Duty: Modern Warfare 3, compete in gaming tournaments for cash and prizes, play paintball in a real-life multiplayer map, see live entertainment and more.
Attendees of all skill levels may compete for prizes in a variety of free-for-all, Zombies, Spec Ops, and team-based multiplayer competitions. Who will win the most consecutive free-for-all matches? Who can survive the longest in Zombies? Who will qualify on site for a seat in the million-dollar tournament? There is no additional cost to participate in live competition, and you may play as often as you like. There will also be the ultimate paintball firefight, held on a life-size re-creation of Scrapyard! Attendees will also get an exclusive Call of Duty "goody bag".
This event is for all the fans, not just the lucky ones to attend in person. Whether it's through Xbox Live, the Call of Duty YouTube channel, Facebook, Twitter or other broadcast avenues, there will be numerous ways to be a part of the action wherever you are.
All attendees must be at least 18 years of age. Filming will be allowed but will be restricted in some areas. You will not be allowed to bring laptops, consoles and electronic storage devices to the event.
Tickets will go on sale Tuesday July 19th, with the exact time being announced on July 12th. International attendees will be able to purchase tickets via. online sales. Call of Duty XP will have entertainment scheduled throughout the day and evening. Full event times and a schedule of events will be revealed on July 12th. Hotel and travel packages will be announced shortly.
For the latest news, sign up here for weekly updates!
Sources
Ad blocker interference detected!
Wikia is a free-to-use site that makes money from advertising. We have a modified experience for viewers using ad blockers

Wikia is not accessible if you've made further modifications. Remove the custom ad blocker rule(s) and the page will load as expected.