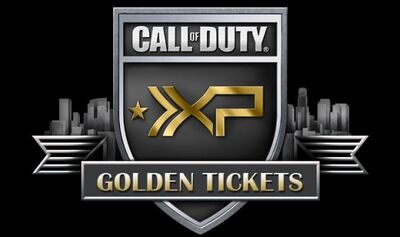 Remember those golden tickets from Charlie and the Chocolate Factory? Well, instead of a lifetime supply of chocolate, these lucky people will gain free access to Call of Duty XP! Beginning immediately, winners will be notified via Direct Message over twitter with instructions on how to redeem your golden ticket.
Throw up that tweet! Several "golden tickets" will be given out, with updates through Twitter letting you know when all tickets have been given away.
NOTE: Travel expenses NOT included.
How to participate
You have to be 18 or older, in order to participate.
Links
Ad blocker interference detected!
Wikia is a free-to-use site that makes money from advertising. We have a modified experience for viewers using ad blockers

Wikia is not accessible if you've made further modifications. Remove the custom ad blocker rule(s) and the page will load as expected.