If you're planning to get a normal copy of Call of Duty: Modern Warfare 3, you might want to reconsider. This year, the hardened edition will come with a LOAD of stuff! Depending on which version you get, you will get a special theme/outfit for your system.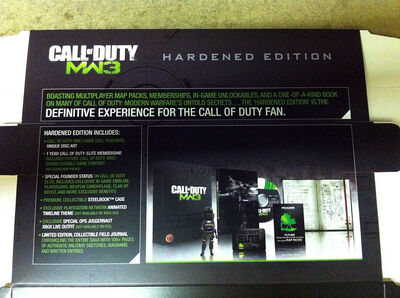 The photo appears to show a retail advertisement for a European version of the Hardened Edition box, so it's possible the U.S. version would be different. However, previous limited-edition Call of Duty packages have been identical in the United States and Europe.
Hardened Edition Includes
Call of Duty: MW3 game disk, featuring unique disk art
1 year of Call of Duty ELITE Membership - Includes future MW3 downloadable game content/Map Packs
Special Founder Status - On Call of Duty ELITE. Includes Exclusive In-Game Emblem, Playercard, Weapon Camouflage, Clan XP boost, and more Exclusive benifits
Premium Collectable Steelbook™ Case
Exclusive Playstation Network Animated Timeline Theme (PS3)
Exclusive Special Ops Juggernaut xBox Live Outfit (xBox)
Limited Edition, Collectable Field Journal - Chronicling the entire saga with 100+ pages of authentic military sketches, Diagrams, and Written Entries
Links
Ad blocker interference detected!
Wikia is a free-to-use site that makes money from advertising. We have a modified experience for viewers using ad blockers

Wikia is not accessible if you've made further modifications. Remove the custom ad blocker rule(s) and the page will load as expected.