"The full season of content for Modern Warfare 3 kicks off for Elite subscribers on January 24 on Xbox LIVE."
— Robert Bowling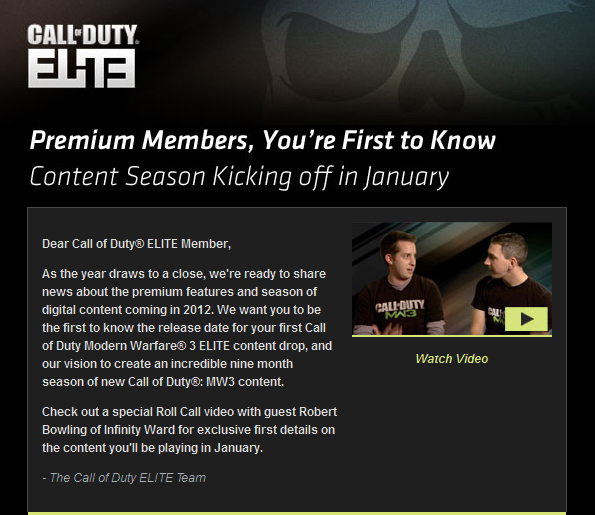 If you are a premium subscriber to Call of Duty Elite, you can watch the video via ELITE TV, under Roll Call.
According to Robert Bowling from Infinity Ward, "The way we're doing downloadable content this year is unlike we've never done before." He also states that "Not only in how you can get it - in content drops or choose for the collection - but also the type of content you're getting. We're doing more than just maps. We're going to do Spec Ops missions and a variety of things that players have never seen before."
According to CVG, when asking Activision if PS3 and PC Elite subscribers will have to wait a month, following the trend of previous Call of Duty DLC's, a spokesperson responded with;
"Today we informed the Call of Duty Elite Premium community that the Call of Duty: Modern Warfare 3 Elite Content Season will officially kick off on January 24 for Xbox users. We'll have more details about the entire 2012 MW3 Content Season in early January, so stay tuned for updates."
— Activision
The full season of content for MW3 will kick off in July, having three developers contributing to the content. Infinity Ward, Sledgehammer Games, and Raven Software are all pitching in to make this the best season of content.
Bowling also released a teaser picture of one of the upcoming maps Park, a map listed in a supposed leak on YouTube, with others mentioned including Overwatch, Cement, Italy and Morningwood. (Yeah. Wood.)
Teaser picture of the upcoming map, Park.
Playstation 3 and PC players can expect DLC to arrive one month later. Despite all the above, it is unknown whether or not the DLC will be released for general purchase at launch.
Links
---
Ad blocker interference detected!
Wikia is a free-to-use site that makes money from advertising. We have a modified experience for viewers using ad blockers

Wikia is not accessible if you've made further modifications. Remove the custom ad blocker rule(s) and the page will load as expected.