Block
A wild VANDAL appeared!
EightOhEight uses Block!
It's super effective!
The wild VANDAL fainted!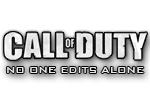 Due to your
unacceptable behavior
, you have been blocked for 3 days. You are welcome to come back and edit sensibly after the block is up, however it is very strongly advised that you read and review
our policies
thoroughly before you start to edit again. If you believe your block is unfair you can leave a message on this page and an administrator will consider it.
Any more unacceptable behavior and another block will be issued. Thank you.
Your thoughts, CoD wiki?
Ad blocker interference detected!
Wikia is a free-to-use site that makes money from advertising. We have a modified experience for viewers using ad blockers

Wikia is not accessible if you've made further modifications. Remove the custom ad blocker rule(s) and the page will load as expected.