Now that the most anticipated game ever will be showing up in our disc trays in 2 weeks, how do you all feel about quick scoping in MW3? I personally can't wait for it, because I have just got back into quick scoping with my rusty intervention (got fall camo sunday)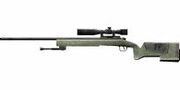 , and my beauty of a beast M40a3. I wonder how different the quick scoping will be or if it will be the same. How do you all feel about it?
Im Goldy G 03:02, October 25, 2011 (UTC)
Ad blocker interference detected!
Wikia is a free-to-use site that makes money from advertising. We have a modified experience for viewers using ad blockers

Wikia is not accessible if you've made further modifications. Remove the custom ad blocker rule(s) and the page will load as expected.