Hello, this is Jimi56. We all like the zombies wonder weapons, but there are a few that aren't that great. Whether it be Splash damage, uselessness, or lack of fun, These are my top 5 worst wonder weapons.
5.VR11

This gun is on Call of the Dead, and is what many regard to be the worst wonder weapon that you can receive from the mystery box. First off, this gun "kills" zombies, but you get no points. The shot turns the zombies back into people, and acts like an Awful Lawton shot. The human attracts zombies that are close, and I mean they have to be pretty close to him. When PaPed, it gets more ammo and the ability kill the human by shooting him twice; which causes an explosion that kills zombies. There are two pluses to having this weapon: The upgraded version can make George go away, and it allows a team-mate to be invisible and have insta-kill for a short period of time. I like this gun, but it is very useless on solo.
4.QED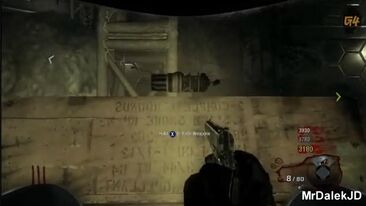 The QED's are tactical grenades that can be obtained from the mystery box. They are weird, so I'll try to give a quick explanation. It is a random object generator. I always get from the box, hoping that I can get more than four perks with it; but all I end up getting the astronaut explosion or zombie spawns. It is rare to get a good effect from this grenade, so I'd suggest getting the Gersch Device instead.
3.Wind Staff
Ugh, I hate this weapon. It is on Origins, and can be obtained for free by building it. The reason I dislike this staff is because of the process, you have to go inside the robots, which takes a long while. The wind staff isn't an insta-kill gun either, and loses its OHK ability at round 15-ish. Upgrading it can fix it, but it is still a huge waste of time. It would be so much better if it was an insta-kill, and had less ammo(for balancing purposes). Personally , I don't like it and I think it is a waste of time.
2.G-MOTHERFLIPPIN-STRIKE Grenade
Yeah, you see that piece of crap right there don't you? The G-strike grenade is the most time consuming thing ever. I talking about getting it. You have to get melee kills in the church, then you do the same in the tank area. You have two choices: build zombie shield, and use it repeatedly; or get the One Inch Punch. The 1 inch punch takes too long to get, and can be reset; everything is trying to prevent you from getting the OIP. It don't matter, it isn't an inst-kill by time that you do get it. You are going to die if try to get this weapon, so don't even.
1.Awwww no. Power off console to avoid Jetgun
Not user friendly........that is all.
That is about it for this top 5. What is your least favorite wonder weapon. Leave a comment on what top you'd like to see next. I see you in the next one, goodbye.
Ad blocker interference detected!
Wikia is a free-to-use site that makes money from advertising. We have a modified experience for viewers using ad blockers

Wikia is not accessible if you've made further modifications. Remove the custom ad blocker rule(s) and the page will load as expected.