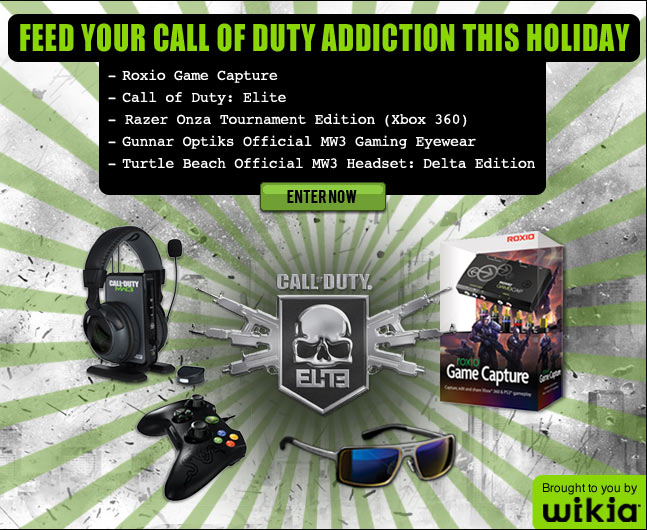 Call of Duty: Modern Warfare 3 is coming out, and you need to deck yourself out with the latest and greatest Call of Duty related gear. We've put together a list of the best hardware and accessories available, and thanks to the generosity of the companies featured here, we'll be giving it all away to one lucky winner. So read on for our recommendations and to find out how you can walk away with the ultimate Call of Duty prize pack!
Congratulations Vonmunster, you are the winner!
1) First, create an account!
Next, leave a comment answering this question:
"Which product are you most excited to receive and why?"
NOTE: You must leave a logged in comment to win!
2) You can post a tweet to Twitter with the words "I want to win Wikia's Ultimate Call of Duty Gift Guide Prize Pack!" (You must also include the hashtag #CallOfDutyWiki and this link: http://ow.ly/78tys
3) You can like Call of Duty Wiki on its Facebook page and share this contest with your friends.
4) You can do all three!
The Grand Prize!
One lucky winner will walk away with the ultimate Call of Duty prize pack!
Rules
Open for US residents only. Sorry, we know it sucks, but logistics demand it. Must be 18 or older OR have a parent or guardian's permission to claim prize. Check out the official rules for details. Winners will be randomly selected from all eligible entries.
Contest ends November 22, 2011.
Share The Contest!
Ad blocker interference detected!
Wikia is a free-to-use site that makes money from advertising. We have a modified experience for viewers using ad blockers

Wikia is not accessible if you've made further modifications. Remove the custom ad blocker rule(s) and the page will load as expected.