The Hardened and Prestige Editions of Call of Duty: Black Ops II have been announced!
The Hardened Edition comes in a collectible box this year, similar to Call of Duty: Modern Warfare 3. This includes:
Colectible steelbook case
Limited edition challenge coins
Official soundtrack
Exclusive Xbox Live Claw prop and Zombies costume or Playstation 3 Multiplayer theme and Zombies theme
Nuketown Zombies and 2025
Exclusive weapon camo and playercard backgrounds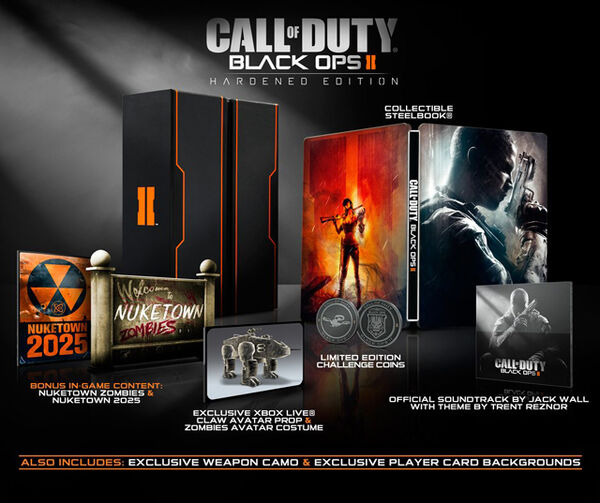 The Prestige Edition, known as the "Care Package", includes all the contents of the Hardened Edition plus:
Remote-controlled MQ-27 Dragonfire Drone
Care Package packaging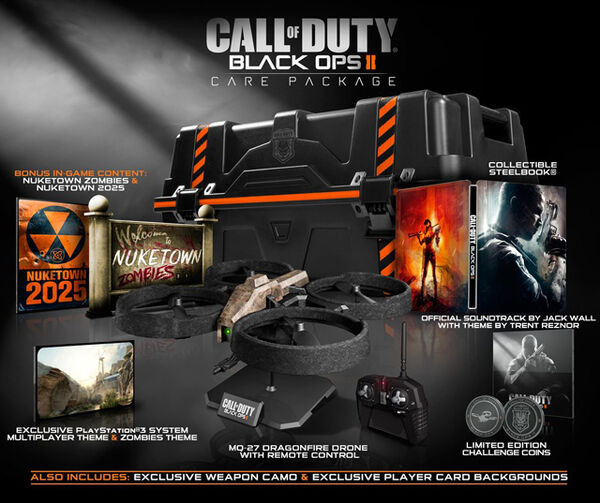 So what do you think of this year's Prestige Edition after the absence of one in Modern Warfare 3? Do you plan on getting either the Hardened or the Prestige Edition? Let us know in the comments below!
---
Sources: http://www.fpsgeneral.com/news/call-of-duty-black-ops-2/21438-black-ops-2-prestige-and-hardened-editions http://www.charlieintel.com/2012/08/28/black-ops-2-hardened-and-prestige-edition-officially-announced/
Credit to Ice Water Fearlessly Trained Walruses for writing the blog and Shadowking58 for finding the pictures of the Hardened and Prestige editions.
Ad blocker interference detected!
Wikia is a free-to-use site that makes money from advertising. We have a modified experience for viewers using ad blockers

Wikia is not accessible if you've made further modifications. Remove the custom ad blocker rule(s) and the page will load as expected.