Prepare for release in
Nov 8 2011 7:00 UTC This message will be displayed if the timer does not show up (like if you do not have javascript enabled on your browser)!
Watch the launch event right
here
on the Call of Duty Wiki!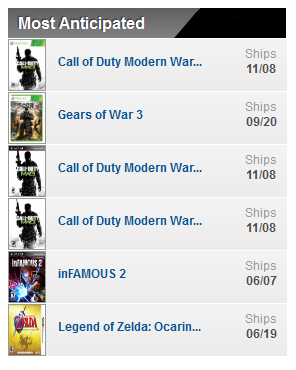 It is now possible to pre order Call of Duty: Modern Warfare 3 on GameStop. The game is set to be released on November 8th 2011 for $60 and the first few to Pre-Order it will get an exclusive poster similar to the Pre-Order of Call of Duty: Black Ops. According to their site, this offer is only in limited quantites, so if your interested in getting a poster then you should pre order soon.

On the GameStop's website, Modern Warfare 3's Xbox 360 version is at the top of their Most Anticipated list, with the PS3 and PC version in 3rd and 4th respectively.

So are you going to Pre-Order Modern Warfare 3? Do you think Modern Warfare 3 will live up to its hype? Let us know in the comments!

Update: The PS3 Version is now 2nd place.



View and discuss the poster here!