Hello everyone, Legos here, and I've got some news on Black Ops III concerning last gen consoles! As all may recall, Beenox and Mercenary Technology were responsible with the last gen ports of the game.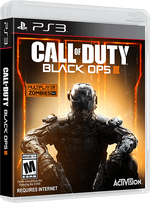 Originally, it had been advertised that the game would only have the campaign available for one or two players. However, due to hardware limitations, the campaign could not be "faithfully recreated on old generation hardware". As such, campaign has been entirely removed from the PS3 and Xbox 360 versions of the game.
This means that Black Ops III will only have multiplayer and zombies (note that The Giant is still a current gen exclusive). The price has been lowered to $49.99, however, it also includes a digital download of the first Black Ops, which I'm pretty sure is already in the possession of most fans of the series already.
Lastly, according to the box art for last gen, the game will require an internet connection to play. So will this mean local play is removed from last gen as well?
What do you think of these changes? If you are on last gen consoles, are you still going to buy Black Ops III, or will you use your money towards a current gen console or a different game entirely? Leave your comments below.
---
Source: Charlieintel.com
---
Ad blocker interference detected!
Wikia is a free-to-use site that makes money from advertising. We have a modified experience for viewers using ad blockers

Wikia is not accessible if you've made further modifications. Remove the custom ad blocker rule(s) and the page will load as expected.