Okay so we all know that Retaliation is not the next map pack (since its just the file name for the escalation mp) and that Treyarch was saying that they'd like to release a new map pack. Luckily for us, treyarch IS making a new map pack, called Rezurrection (yes, not reSurrection). This map pack will be COMPLETELY different as it will ONLY have zombie maps and no Multiplayer maps. There will be 5 zombie maps total. The new map will be called "Moon" which we can assume will be on the moon, and the other four will be the original maps from World at War: Nacht der Untoten, Verruckt, Shi No Numa, and Der Riese. Those who bought the hardened editon will receive the map pack "at no cost"
Heres the link for the details:
http://multiplayerblog.mtv.com/2011/08/03/call-of-duty-black-ops-resurrection-map-pack-coming-in-september/
Rezurrection includes:
• The all new Moon level • Four re-mastered levels of Zombie lore: Nacht der Untoten, Verruckt, Shi No Numa and Der Riese, the Zombie factory that started it all • An enhanced Zombies Soundtrack including three tracks never before available for purchase • A new Zombies Moon theme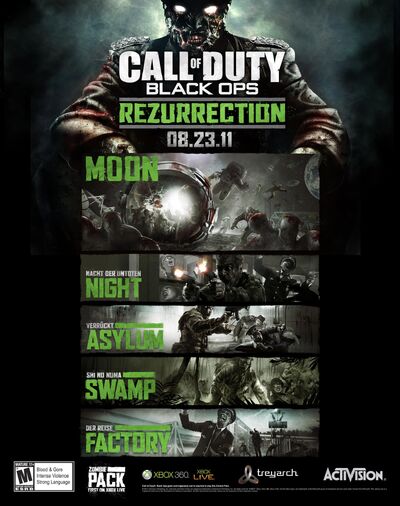 The Release date is August 23rd for the Xbox, and a month later for PS3 and PC
It'll probably cost the usual $15/£12.00/1200 MS points
So, what do you all think of this map pack?
Ad blocker interference detected!
Wikia is a free-to-use site that makes money from advertising. We have a modified experience for viewers using ad blockers

Wikia is not accessible if you've made further modifications. Remove the custom ad blocker rule(s) and the page will load as expected.