Logitech has unveiled two brand new designs, exclusive to Modern Warfare 3. The brand new gaming keyboard and mouse (pictured below) are special editions designed from the ground up to represent Call of Duty and Modern Warfare 3.[1]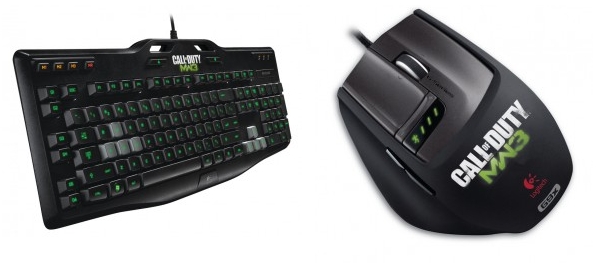 The two PC peripherals are a specialised keyboard and mouse.
Logitech Gaming Keyboard G105
The Logitech Gaming Keyboard G105, the official keyboard of Call of Duty: Modern Warfare 3, lets you play long into the night with military-style, night-vision green LED backlighting. Featuring six programmable G-keys, each with three mode states, the Logitech Gaming Keyboard G105 provides up to 18 possible macro combinations per game. These macros let you perform single keystrokes or intricate multi-key combinations complete with mouse events, user-defined delays and repeating. New macros can even be recorded on the fly once you download the Logitech Gaming Software
Multi-key input allows you to use up to five keys at once. You can perform multiple - and more complex - actions without the interference or ghosting that can occur on other keyboards. Plus, convenient media key controls put instant access to volume and mute, as well as start, stop, pause, forward and back functions, right at your fingertips. For added convenience, a game/desktop mode switch disables the Windows and Context Menu keys, so your game won't be interrupted if you accidentally press the wrong keys.
Logitech Laser Mouse G9X
The Logitech Laser Mouse gaming laser gives you game-changing precision at hand speeds up to 165 inches per second on the most popular gaming mouse pad surfaces. On-the-fly, adjustable dpi takes you from pixel-precise targeting (200 dpi) to lightning-fast maneuvers (up to 5700 dpi) without pausing the action, while full-speed USB delivers performance at up to 1000 reports per second. The MicroGear trade; Precision Scroll wheel is perfect for weapon selection or switch to frictionless hyper-fast scrolling to fly through long Web pages when you're not playing Call of Duty: Modern Warfare 3.
A weight-tuning system allows you to customize your mouse with up to 28 grams of extra weights that you can mix and match for more control. A custom color display also lets you choose the color of your LEDs from a wide color spectrum so you can match your mouse to your PC, your game, or your style.
References
↑ Modern Warfare 3 forum - Unveils Modern Warfare 3 PC Peripherals
---
Ad blocker interference detected!
Wikia is a free-to-use site that makes money from advertising. We have a modified experience for viewers using ad blockers

Wikia is not accessible if you've made further modifications. Remove the custom ad blocker rule(s) and the page will load as expected.