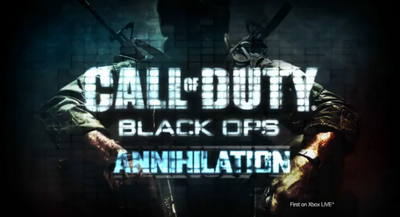 ---
8 new HD screenshots of the new zombies map "Shangri-La" have been released. The new screenshots show the zombies and gameplay in the new zombie map, as well as some interesting information about the map pack as a whole.
Annihilation has now been released on the Xbox 360 platform! Be sure to buy it if you have that console and want it. If not, I'm sure there is a valid reason for it...
Treyarch Suck!
---
Sources:
---
Ad blocker interference detected!
Wikia is a free-to-use site that makes money from advertising. We have a modified experience for viewers using ad blockers

Wikia is not accessible if you've made further modifications. Remove the custom ad blocker rule(s) and the page will load as expected.