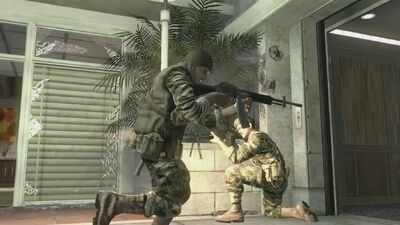 Treyarch quietly dropped Call of Duty: Black Ops' mod tools on Steam earlier this month, but that might not be all the love the developer sends to the PC modding community.
Speaking with Game Front's Jordon Justice at a preview event for Black Ops' newest downloadable map pack, Annihilation (which is available exclusively on Xbox 360 for about a month before it migrates to PC and Playstation 3), Black Ops Community Director Josh Olin said the company is looking into the possibility of releasing a map tool to go along with its current modding tools, as well as supporting the ones they've already released into the future.
"I really couldn't speak to future projects, but in terms of with Black Ops, if bugs come up, problems come up, we'll patch them, we'll fix the tools. We plan on supporting the tools," Olin said. "And I know that our PC team is still investigating Radiant, the potential release of Map Tool. You'll want to follow me (@JD_2020) and also our PC Director (@PCDev) on Twitter and he's going to keep everyone updated on the progress of that."
According to the Black Ops modding forums, Radiant, the game's map editor, hasn't made it into the mod tools yet because Treyarch is dealing with some technical issues in releasing it. Back on June 1, the @PCDev Twitter account had this update about when Radiant might be released: "Doubt we'll be be able to spend time on it (Radiant) until we get tools, DLC, and another patch out the door."
Well, all those things have come to pass, so hopefully it means time can be devoted to figuring out the issues with Radiant. At the very least, it seems to be on Treyarch's mind, which is a good sign.
Ad blocker interference detected!
Wikia is a free-to-use site that makes money from advertising. We have a modified experience for viewers using ad blockers

Wikia is not accessible if you've made further modifications. Remove the custom ad blocker rule(s) and the page will load as expected.