Comments

190
"Call of Duty Online" and "Modern Warfare 3" to be revealed soon
Ad blocker interference detected!
Wikia is a free-to-use site that makes money from advertising. We have a modified experience for viewers using ad blockers

Wikia is not accessible if you've made further modifications. Remove the custom ad blocker rule(s) and the page will load as expected.
Reports suggest that Activision is ready to announce a new Call of Duty online game and Playstation magazine suggests the reveal of Modern Warfare 3 will be soon
---
Call of Duty Online was hinted at back in February, by Activision CFO Thomas Tippl, he confirmed the formation of new Call of Duty dedicated studio, Beachhead, which will
"create the best-in-class online community, exclusive content, and a suite of services to supercharge the online gaming experience like never before,"
And it will apparently be a new platform which will,
"support in-game integration and bring online experiences and console play together for the first time."
People are suggesting it could be a free-to-play online title similar to Battlefield Heroes and Battlefield Play4Free.
This is only a rumour as of now but with Activision's quarterly results scheduled to be released on Monday, we may learn more then so check back here for any more news.
---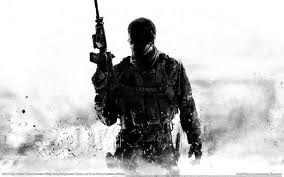 Playstation Magazine UK teases "The Biggest Game in the World Returns" showing an image of a huge number three in a Modern Warfare style font. It's a good assumption that Playstation Magazine are referring to Modern Warfare 3.
We know that a Call of Duty announcement is due soon (see above) and that the next Call of Duty title is also being developed for Sony's NGP, better known as a PSP 2 as well as the PS3. This all helps give us more clues towards this being Modern Warfare 3 related, along with the fact that this magazine will be released on the 8th June 2011 and by that time E3 2011 would be well under way, with Modern Warfare 3 probably being already being revealed.
Not much else is known about when... or if Modern Warfare 3 will be released. So keep your eyes peeled to this website and we'll keep you updated as soon as any more information appears.
---
And what do you think of these new icons? Pretty sweet eh?