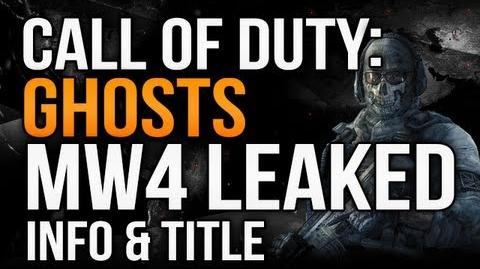 Well known YouTuber Drift0r has received info from a "reliable source" about the apparent next Call of Duty game. It will be called Call of Duty: Ghosts.
Info from the video has been summed up below:
Name is Call of Duty: Ghosts

Was previously named Call of Duty: Phantoms

Is not related to the character Ghost

Branching out from Modern Warfare Series
Expect an announcement near May 1st
Set in future but using current generation weapons

Major plot event causes the use of current generation weapons in the future

Multiplayer loading screens are dynamic

No longer a simple countdown
Examples: Repel from chopper or sneak into map.
Similar to the strike force mode intros

Player movement changed

No mention of Dolphin Dive
Sprint into sliding
Shoot while sliding
Peeking around corners on console
Can roll while prone. Similar to DayZ

Spec Ops is gone

Replaced by something completely new

More destructive environments

Shoot down killstreak and destroy building
More interactive maps like Hydro
More destruction in Singleplayer rather than Multiplayer

Launch only on Next Gen consoles

On New Xbox, PS4 and PC only.
---
Ad blocker interference detected!
Wikia is a free-to-use site that makes money from advertising. We have a modified experience for viewers using ad blockers

Wikia is not accessible if you've made further modifications. Remove the custom ad blocker rule(s) and the page will load as expected.